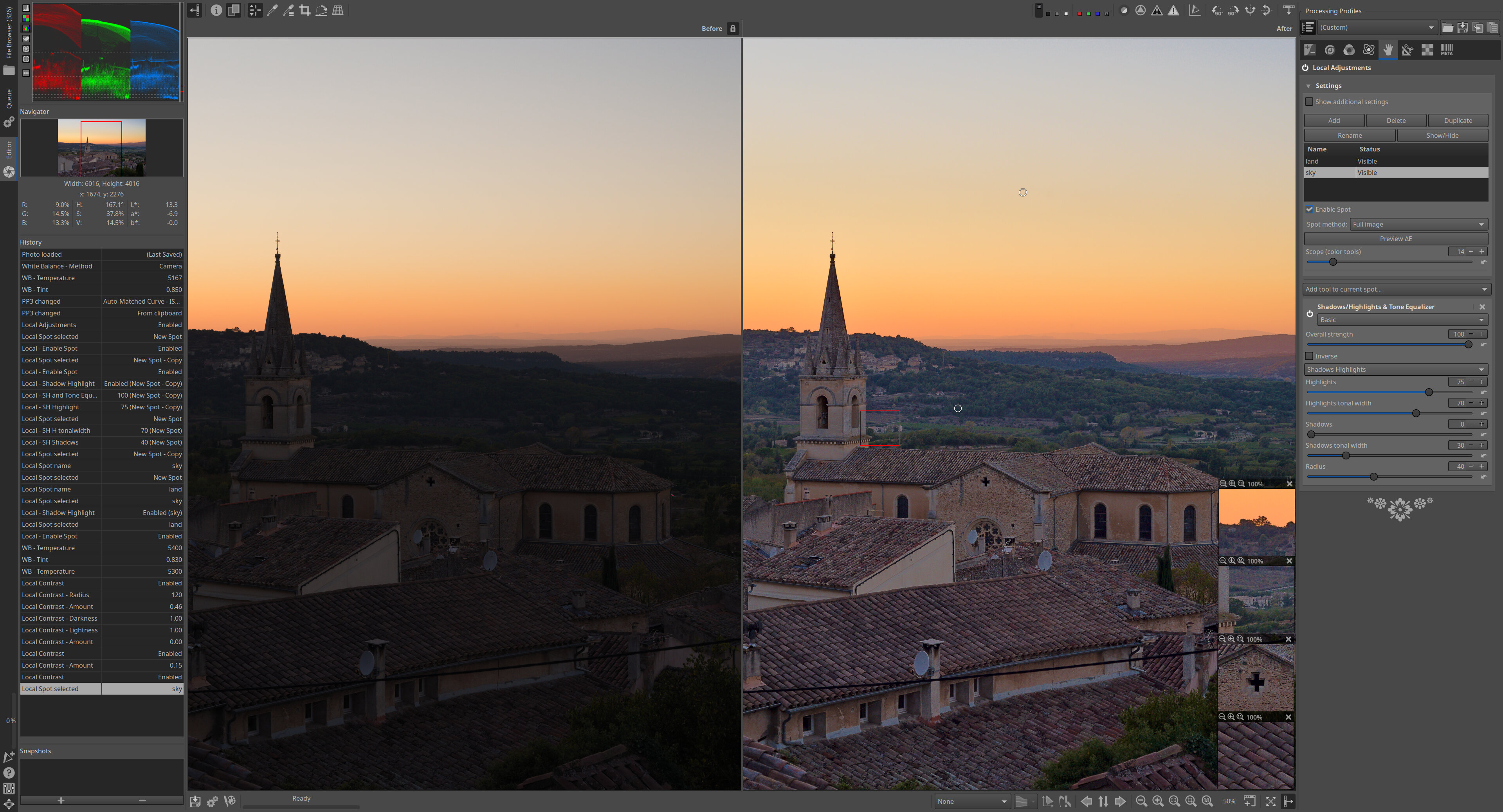 Just open the zip file and run the executable installer.
Software should be installed through your distribution's package manager.
If RawTherapee 5.9 is not yet available in your package manager, you can use the AppImage:
Download it.
Make it executable: chmod u+x RawTherapee_5.9.AppImage
Run it: ./RawTherapee_5.9.AppImage
The macOS build requires macOS Big Sur (version 11) or newer.
To install the RawTherapee application, open the .dmg file and drag the RawTherapee app onto the /Applications folder.
To use the optional rawtherapee-cli command line interface, move rawtherapee-cli into a folder in your $PATH and install the RawTherapee app as above.
If the workspace is too small to read, you must change the HiDPI settings in RawTherapee: go to Preferences > General, and enable "Pseudo-HiDPI mode". Restart RawTherapee for the changes to take effect.
There is a known issue concerning macOS Ventura (version 13) wherein it may be impossible to click on some GUI elements, specifically drop-down menus. The source of this problem lies in macOS/GTK+ and is unrelated to RawTherapee. We will update you once a fix is available.
The Spot Removal tool (Detail tab) was added, for removing dust specks and small objects.
The Color Appearance & Lighting tool (Advanced tab), formerly known as CIECAM02, now includes CAM16. By taking into account the conditions of the photographed scene and the conditions under which the image is viewed, it allows you to adjust the image in a way which matches human color perception.
The Local Adjustments tool (Local tab) was added, for performing a wide range of operations on an area of the image determined by its geometry or color.
The Wavelet Levels tool (Advanced tab) received various improvements.
The White Balance tool (Color tab) received a new automatic white balance method named "temperature correlation" (the old one was renamed to "RGB grey").
The Film Negative tool (Color tab) received various improvements including support for non-raw files.
The Preprocess White Balance tool (Raw tab) was added, allowing you to specify whether channels should be balanced automatically or whether the white balance values recorded by the camera should be used instead.
A new Perspective Correction tool (Transform tab) was added which includes an automated perspective correction feature.
The Main Histogram was improved with new modes: waveform, vectorscope and RGB parade.
Improvements to the Inspect feature (File Browser tab).
New dual-demosaicing methods in the Demosaicing tool (Raw tab).
The Haze Removal tool (Detail tab) received a saturation adjuster.
The RawTherapee theme was improved, including changes to make it easier to see which tools are enabled.
The Navigator (Editor tab) can now be resized.
The Resize tool (Transform tab) now allows to resize by the long or short edge.
The Crop tool (Transform tab) received a "centered square" crop guide, useful when the resulting non-square image will also be used on social media which crop to a square format.
The Pixel Shift demosaicing method (Raw tab) now allows using an average of all frames for regions with motion.
Added or improved support for cameras, raw formats and color profiles:

Canon EOS 100D / Rebel SL1 / Kiss X7
Canon EOS 1DX Mark III
Canon EOS 2000D / Rebel T7 / Kiss X90
Canon EOS 400D DIGITAL
Canon EOS 5D Mark II
Canon EOS 5D Mark IV (DCP)
Canon EOS 90D (DCP)
Canon EOS M6 Mark II (DCP)
Canon EOS R (DCP)
Canon EOS R3, R7 and R10
Canon EOS R5 (DCP)
Canon EOS R6 (DCP)
Canon EOS RP
Canon EOS-1D Mark III
Canon EOS-1Ds
Canon EOS-1Ds Mark II
Canon PowerShot G1 X Mark II (DCP)
Canon PowerShot G9 X Mark II
Canon PowerShot S120 (DCP)
Canon PowerShot SX50 HS
Canon PowerShot SX70 HS
DJI FC3170
FUJIFILM X-A5 (DCP)
FUJIFILM X-E4
FUJIFILM X-H1 (DCP)
FUJIFILM X-PRO2
FUJIFILM X-PRO3 (DCP)
FUJIFILM X-S10
FUJIFILM X-T1
FUJIFILM X-T100
FUJIFILM X-T2
FUJIFILM X-T3 (DCP)
FUJIFILM X-T30
FUJIFILM X-T4
FUJIFILM X100V
Fujifilm GFX 100
Fujifilm GFX100S though lossy compression and alternative crop modes (e.g. 4:3) are not supported yet
Fujifilm X-A20
Fujifilm X-T4
HASSELBLAD NEX-7 (Lunar)
Hasselblad L1D-20c (DJI Mavic 2 Pro)
Improved support for the Canon CR3 raw format, added support for compressed files, affects Canon EOS M50, R, R5, R6 and 1D X Mark III, etc.
LEICA C-LUX
LEICA CAM-DC25
LEICA D-LUX 7
LEICA M8
LEICA V-LUX 5
Leica SL2-S
NIKON COOLPIX P1000
NIKON D500 (DCP)
NIKON D5300 (DCP)
NIKON D610 (DCP)
NIKON D7100 (DCP)
NIKON D7500 (DCP)
NIKON D800 (DCP)
NIKON D850 (DCP)
NIKON Z 6 (DCP)
NIKON Z 7 (DCP)
Nikon 1 J4
Nikon COOLPIX P950
Nikon D2Hs
Nikon D2Xs
Nikon D300s
Nikon D3500
Nikon D5100
Nikon D6
Nikon D70s
Nikon D780
Nikon D810A
Nikon Z 5
Nikon Z 50 (DCP)
Nikon Z 6II
Nikon Z 7II
Nikon Z fc
OLYMPUS E-M10 Mark IV
OLYMPUS E-M1 Mark III
OLYMPUS E-M1X
OLYMPUS E-M5 Mark II (DCP)
OLYMPUS E-M5 Mark III
OLYMPUS E-PL10
OLYMPUS E-PL9
OLYMPUS Stylus 1
OLYMPUS Stylus 1s
OLYMPUS TG-6
PENTAX K-50 (DCP)
PENTAX K10D
Panasonic DC-FZ1000M2
Panasonic DC-FZ80
Panasonic DC-FZ81
Panasonic DC-FZ82
Panasonic DC-FZ83
Panasonic DC-G100
Panasonic DC-G110
Panasonic DC-G90
Panasonic DC-G95
Panasonic DC-G99
Panasonic DC-S1H
Panasonic DC-S5 (DCP)
Panasonic DC-TZ95
Panasonic DC-ZS80
Panasonic DMC-TZ80
Panasonic DMC-TZ85
Panasonic DMC-ZS60
RICOH PENTAX K-1 Mark II
RICOH PENTAX K-3 Mark III
SONY ILCE-9 (DCP)
SONY NEX-7
Samsung Galaxy S7
Sigma fp
Sony DCZV1B
Sony DSC-HX95
Sony DSC-HX99
Sony DSC-RX0
Sony DSC-RX0M2
Sony DSC-RX100
Sony DSC-RX100M5A
Sony DSC-RX100M6
Sony DSC-RX100M7
Sony DSC-RX10M2
Sony DSC-RX10M3
Sony DSC-RX10M4
Sony DSC-RX1R
Sony ILCE-1
Sony ILCE-6100
Sony ILCE-6400 (DCP)
Sony ILCE-6600 (DCP)
Sony ILCE-7C
Sony ILCE-7M3
Sony ILCE-7M4
Sony ILCE-7RM4 (DCP)
Sony ILCE-7SM3
Sony ILCE-9M2
Sony NEX-F3
Sony SLT-A99V
A few months ago Pat David wrote the article RawTherapee 5.9 (WIP) and Project Updates which explained all the major new features and changes in RawTherapee since the release of version 5.8 in 2020. The work since then focused only on stabilization and polish to bring you this release. Read that article for more information.
463f838981a1f11dff37160b1dc5c67a13d27066b869d8dea301db416871eb67 RawTherapee_5.9.AppImage
dcc02ad33588a509da73e4a093508d795bda42dc5ece66cb6a564979bb204cc5 RawTherapee_5.9_win64.zip
New since 5.8:
Automated build system moved from Travis CI to GitHub Actions
libcanberra made optional in CMake via USE_LIBCANBERRA, default ON.
In general:
To get the source code, either clone from git or use the tarball from https://rawtherapee.com/shared/source/ . Do not use the auto-generated GitHub release tarballs.
Requires GTK+ version >=3.16, though >=3.22.24 is recommended.
GTK+ versions 3.24.2 - 3.24.6 have an issue where combobox menu scroll-arrows are missing when the combobox list does not fit vertically on the screen. As a result, users would not be able to scroll in the following comboboxes: Processing Profiles, Film Simulation, and the camera and lens profiles in Profiled Lens Correction.
RawTherapee 5 requires GCC-4.9 or higher, or Clang.
Do not use -ffast-math, it will not make RawTherapee faster but will introduce artifacts.
Use -O3, it will make RawTherapee faster with no known side-effects.
For stable releases use -DCACHE_NAME_SUFFIX=""
For development builds and release-candidates use -DCACHE_NAME_SUFFIX="5-dev"
See CONTRIBUTING.md.
Complete revision history available on GitHub.
If you found a problem, don't keep it to yourself. Read the article "How to Write Useful Bug Reports" to get the problem fixed.